One Half Hour Tours are: for 2 people - $349 each; for 3 people - $233 each; for 4 people - $187 each.

One Hour Tours are: for 2 people - $599 each; for 3 people - $402 each; for 4 people - $310 each.

We realize we are a few dollars more but when you consider other operator's aircraft are 39 years old and we fly the newest state-of-the-art helicopter you understand the difference. If you have any other questions or comments, please fill out the form below and we will be sure to respond as soon as possible. Thanks for contacting Glacier Aviation Services.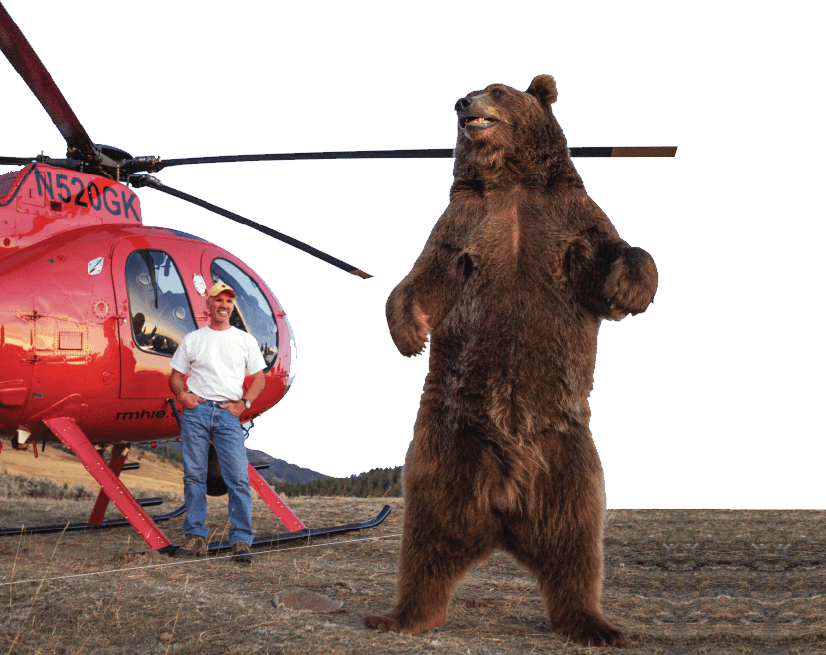 Brutus the Grizzly Bear -
In case you are wondering about Brutus. He is a 15 year old Alaska Brown Bear which is a close relative of the Grizzly Bear. He weighs in about 900 pounds and stands about 9 feet tall when on his hind feet. I first met him while doing aerial film work on a National Geographic program about these awesome creatures. Brutus is owned by my friend Casey Anderson who operates the Grizzly Encounter near Bozeman, Montana where Brutus is an educational ambassador to the community for understanding Grizzly Bears. We provided the aerial shots for the initial show that was to air on NatGeo and as a gesture of appreciation Casey had Brutus do some promo photos for me with our filming helicopter.